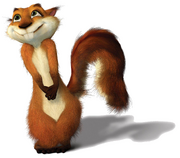 Hammy is the tritagonist of the Over the Hedge franchise. He is one of RJ's best friends.
Biography
Edit
Coming soon!
Personality
Edit
Hammy is not like an average squirrel: He is basically insane, spouting random comments at different moments, extremely hyperactive, and has an extreme lust for nuts (as well as sugary items, mostly cookies), often trying to find them, to no avail.
Though Hammy also has a calmer side.
Appearance
Edit
Coming soon!
A near-identical character named Sammy was in the comic strip up until late 2005, where a story line shows a mirrored dimension where RJ, Elrod ("Like Verne is any better?"), and Hammy resided. At its conclusion, Sammy went into this dimension and did not return ("He's checking out the floating thingies in his eyes again."), so Hammy came to the real dimension and replaced Sammy.
Ad blocker interference detected!
Wikia is a free-to-use site that makes money from advertising. We have a modified experience for viewers using ad blockers

Wikia is not accessible if you've made further modifications. Remove the custom ad blocker rule(s) and the page will load as expected.