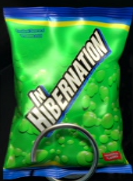 In Hibernation is a feature on the Over the Hedge DVD.
On the main menu, the viewer has eight options to choose from. One of these options is "In Hibernation." It is signified by a bag of green, candy balls. After selecting it, it will bring them to a prompt to go to the film's website, which no longer exists the way it did at the time of release. There is also an animation of Vincent, dancing next to the prompt.
Accessing the Features
Edit
The features can still be accessed, though. By using a universal remote or a DVD remote with numbers, a code must be inputted. The code is as follows: 6, 9, 5.
After the code is successfully entered, a screen will show Ozzie and Heather hanging by a branch with Christmas lights. There are two options:
"Jingle Burps" - A video of an altered rendition of Jingle Bells, with Hammy as the star.
Hammy's Cookie Challenge - A mini game from Over the Hedge: Wacky Moments in Human History. The goal is to grab as many cookies as possible as they ride by on wagons.
"Jingle Burps" is also featured on Hammy's Nutty Fun.
Ad blocker interference detected!
Wikia is a free-to-use site that makes money from advertising. We have a modified experience for viewers using ad blockers

Wikia is not accessible if you've made further modifications. Remove the custom ad blocker rule(s) and the page will load as expected.